How Exactly Are Demolition And Deconstruction Different
The main difference between
demolition
and deconstruction is anchored on the objective.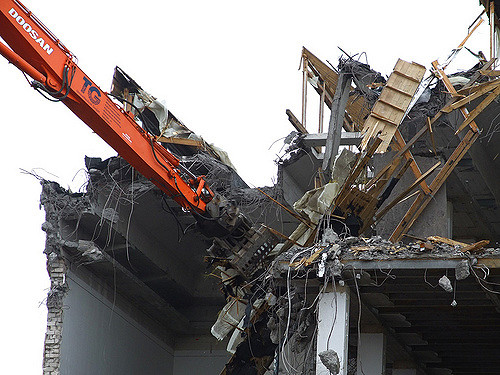 In demolition, the goal of the project is to simply tear down a structure, building, or property. The objective of deconstruction is also to tear down the structure, however, it has an added goal of salvaging whatever parts, components, or materials can be reused and recycled.

Other differences include the time frame for project completion and cost of the same.

Demolition is simply crashing down the building; whereas, deconstruction is reusing and preserving the demolished fragments. It enables you to make use and recycle old materials.
Demolition is actually faster since you don't have to spend time looking for valuables to salvage. As to cost, taking tax write-off you can get from donating the salvaged valuables, deconstruction is costlier than demolition since you have to extend the project for a longer period of time and you also have to hire more people to choose and removed parts that can be saved.
What are the Types of
Demolition
Jobs?
There are various types of demolition jobs. The more common ones are the following:
Ground Penetrating Radar and X-Ray

: This type of demolition service uses GPR to identify surface for piping up and rebar.

Concrete Demolitions

: This type of demolition uses different equipment like compressor crews for hand breaking, excavators, hydro hammers, backhoes and bobcats with breakers.

10 Wheel and End Dump Service

: This type of demolition service is ideal for the demolition of septic systems, repair of leach lines, removal of trees, general labor, trenching, and high sides.

Building Demolition

: This includes multi-story of single-story buildings.

Interior Demolition

: This kind of demolition service is applicable for plants, hospitals, schools, and residential units.

Flooring Removal

: This uses electric machines and propane for removing any kind of adhesives and floorings.
What You Need to Know Before You Decide to
Demolish
?
Before you choose between demolition and deconstruction, the first thing that you have to seriously look into is the goal of shutting down your property. Do you want to completely tear it down or do you want to recycle a few things? If you can't make up your mind, reflect on these questions:
Is demolition the best option for me?
If you want to live in a bigger or a smaller house, or if you want a house with a different style, you can opt to renovate extensively rather than demolish the entire property. This option might cost you a lot since you have to hire an interior designer and people to work on your renovation project. On top of that, you have to invest in furniture or pieces that would capture the style that you want. In this case, demolition might be a better option because you can just shut the entire house down and build something new that will fit your style and specifications. 
How long will it take before the project is completed?
Every builder works at his own pace so you have to carefully choose a builder who will give you a detailed timeline of the entire construction process. His timeline must also include specific timeframes and not simply the start and end dates of the project. Through this, you stay on top of the entire project. 
What are the different costs and fees that might be incurred?
Aside from the materials, builder's fees, and demolition costs, you might have to pay for permits, water consumption, and tree protection, so it's essential that you are aware of these unexpected costs in advance. Also, your builder must be open and transparent about these costs at the start of the construction.
Demolition Risks
Demolition is quite risky that's why it's very important to carefully plan the project before carrying it out. The best way to avoid or mitigate demolition associated risks is to come up with a risk assessment plan.
This is a simple process of assessing
demolition
risks:
Knowing the problem: This simply means you have to identify all the possible hazards.

Identifying the seriousness of the problem: This means you have to assess the level of danger of the risk involved.

Deciding how to address the problem: This part refers to risk control identification.

Reviewing risk control method to check if it will work according to plan.
These are the most
common demolition hazards
:
Collapsing of structure

Falling from one level to another

Falling debris

Location of both the above ground and underground essential services

Toxic noise

from explosives used during demolition

Hazardous noise from plants

The proximity of structures and buildings being demolished to other functioning and operational buildings
If it is not possible for you or for the demolition team to remove all these risks, the most appropriate thing to do is to mitigate the risks by following these control measures:
Stop using the hazardous machinery or tool and using a safer substitute.

Use of manual method than mechanical procedures.

Hazard isolation like using powered mobile plan to lessen risks of a crash or using concrete barriers to protect pedestrians.

Utilization of engineering controls like the use of open cab excavator and protective structures to avoid being hit by

falling debris

and heavy objects.

Installation of warning signs.
Pricing and other costs
So, how much does it cost to demolish a property?
Based on the estimate provided by HomeAdvisor, demolition of high-end properties can cost as high as $ 25,000. For low-end properties, the price for demolition is pegged at $3,000. On average, it could cost you $18,000 to demolish your house.
There are various factors that affect that cost though. A few of these factors include the size of the property being demolished, structural additions, necessary permits, and clearing materials. For instance, you plan to demolish a 1,500 square feet home, the price for demolition can run from $3,000 if it's in the rural area to $18,000 if it's in the city. If you want to renovate your property or its foundation, you should prepare a minimum of $25,000 regardless of where the property is located.
Another factor that can affect the cost of demolition is the standard wage implemented in the region. For bulldozing a 1,500 square foot property, it can cost you $18,000. There are also other contractors who set the price per square foot. In this case, it would help you keep track of your budget if you can get an accurate measurement of your property.
Other Factors Affecting Cost
One of the factors that affect the costs of the demolition projects is the preparation of the site. If you're bulldozing the entire property, you must determine first if you have properly shut off the electricity, water, and gas. Also, make sure that a professional was able to check your outlets, wirings, HVAC units, and plumbing pipes before you start demolishing the structure. If you only have to knock down a few walls, you still have to shut down your utilities so for this, you have to hire a contractor. The cost for these may be expensive but safety is a major consideration so don't worry if you spend more on these.
The need to rebuild another building on site is another factor that will affect the cost of demolition. If this is your intention, make sure to work with an architect before you tear down the property. Although you have to pay for the architect, his advice can actually save you a lot of money since he can work with your contractor and decide if there are ventilation, wirings, plumbing, and structures that can be saved and reused. On the average, the cost of hiring an architect is around $5,000.
Lastly, a house which has asbestos is costlier to demolish since you have to make sure first that you have cleared the property of asbestos before you start demolishing it. On the average, it would cost you around $200 to $600 per hour to eliminate asbestos.
Why Is It Important to Hire Fast and Efficient Contractors?
The best way to save and to finish a demolition job efficiently is to hire the services of a professional to help you make an estimated cost for the entire project. Also, it would be helpful if you can hire the services of a professional who can conduct a pre-project audit. This audit can help you determine which building materials you can use and the corresponding charges for its recycling or removal. Also, make sure that you are aware of your homeowner's insurance coverage. This will help you know what future situations related to demolition can be covered by your insurance. If your current insurance plan is not enough to cover any future liability, explore the option of hiring a liability insurance professional.
If you are looking for a demolition contractor who can offer quality service and safe yet fast and efficient demolition procedures, check out Murray Demolition. Call us today  (+1) 312-410-8314 and get an estimate of the cost of your demolition project