House Demolishing
Residential demolition is entirely a different process from complete building demolition. The latter involves crushing of the building 100% to put it in layman's term; while the former only selects a structure of the house (or the entire house) to demolish.
Good residential demolition contractors will: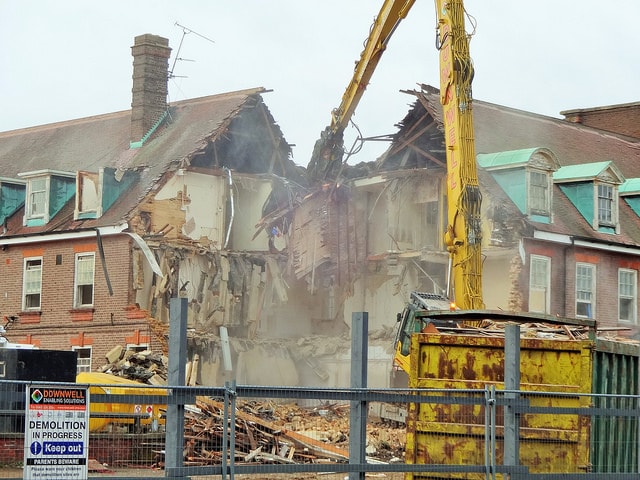 Preparing and submitting the demolition permits to the local municipality.

Arrange a site visit and assess the residential area for hazardous materials and faulty constructions.

Planning and pricing of the demolition project.

Bringing in the heavy machineries to the location.

Sorting out the building materials from the demolition and disposing of waste to various facilities. Debris removal involves transporting the waste either to recycling centers or landfills.
Residential demolition could refer to the complete tearing down of the structure or a selective demolition. With the first option, we will leave the property as a flat ground—a black canvass, if you will, which you can use for whatever purpose you intend.
However, people are still confused about the definition of selective demolition. They think that it's when you pull down sections of the real estate such as the garage, bathroom, walls, and the kitchen. However, we can raze the whole house to the ground and still be considered as selective demolition.
How is that possible?
Selective or interior demolition is actually a more environmentally friendly method where we minimize our waste footprint by maximizing efficiency. Instead of just dumping all the materials on the landfill, we reuse, repurpose, and recycle them for future use.
This will save you a lot of money while it allows us to reduce waste. So basically, it's a win-win for everybody.
Why Opt for Residential Demolition?
There are many reasons to tear down a residential structure.
Fire

– If flames gut the property, it may already be considered as unfit for human habitation. In this case, we can come in for the complete teardown.

Storm or flood damage

– Strong winds can blow out the property and crack the foundation. Depending upon the inspection, the removal can be partial or total.

Government order

– If the city thinks that your home poses a danger to pedestrians and motorists alike, it might order you to demolish the structure. Another instance is when you live in a reserved or reclaimed area where residential properties are prohibited.

Renovation and construction

– Compare our prices with your wrecking company. You may find that allowing us to tear down your property before the contractor comes in would save you some money.

Donated property

– When private owners donate their property to a local non-profit or a charity, the inspection may yield some structural problems, especially if the house has been abandoned for quite some time. When this happens, a total demolishing a home may be needed.
The Residential Demolition Procedure
The Inspection
We evaluate the property and make sure our workers are safe to proceed with the demolition. With older houses, asbestos may be hidden within walls and ceilings. We make sure to take out all the toxic materials before we call in another team to handle the demolition.
Disconnecting Utilities
We will work with your utility firm to relocate your cable, phone, or light. Plumbing and drainage are another issue altogether because, for the most part, they are your lookout.
Securing Permits
The next step is to secure all the necessary documents so the house demolition is legal. We will handle this problem so you don't have to.
Demolition
Whatever option you choose, Murray Demolition is the demolition contractors for you. Our aim is to make everything easy for the client. You don't have to worry about anything after you've signed the dotted line. Let us do the heavy lifting and we will call you when we are done.
Clean As We Go
Our job doesn't end with the residential demolition, however.  We guarantee that when we leave your property, it's already clean of debris, rubble, and trash.
If you choose selective demolition, all the reusable and recyclable materials are already properly sorted. We can also bring in a mobile concrete crusher so you can use 90% of the demolished concrete after we have converted it into gravel.
Meanwhile, all the holes will be properly backfilled so that leaves you with a flat ground.
We are always conscious about our role as stewards of the environment. This is why we recommend to our clients to salvage materials for future use. The goal is two-fold: First is to reduce the volume of waste at the residential demolition site, and second is to save some money for the client. Admittedly, this is harder work for us because it involves a lot of planning and manpower. It would have been easier to just raze the whole structure to the ground and dump all the materials at the landfill.
Factors That Determine Your Home Demolition Cost
With Murray Demolition, you are sure that you're hard-earned money is not put to waste. We are upfront with our costs and never give hidden fees that aren't really necessary. In other words, you'll know that you're paying for quality work.
The factors that affect home demolition cost depends on the gravity of the work. To give you a good idea here's our basic quotes.
For small projects, the cost could be around $6 to $15 per square foot of the demolition work.

For small projects which may include the entire house, our rate starts from $2 to $7 per square foot.
Call Murray For Your Residential Demolition Needs
Murray Demolition is one of Chicago's leading demolition company. We own precision instruments and heavy machinery to handle all types of residential demolition needs. Hundreds of clients have found the benefits of hiring a company with the highest standards for safety and superior quality output.
You can contact our number at 312-410-8314 and our friendly customer representatives are always eager to answer your most nagging questions. We can also send a team to your area to check the site and give you a price quotation for our services totally free of charge. Our quotation comes with no obligation from you to hire our services. What are you waiting for? Dial our number today!