Interior Wall Demolition In Chicago Illinois
We Demolish Unwanted Walls Cleanly and Expertly!
Interior wall demolition is one of the best ways to renovate the interior structure of a home or any establishment. But there are things to consider if you want to perform an interior wall demolition.
There are many reasons why internal walls are demolished. Changing the internal design of the property is one of it. This helps improve the house and transforms its appeal without rebuilding the entire building.
Demolishing the internal walls is also a great way to improve cramped and dark space. By taking down a wall lighting can pass through and the area can dramatically improve with minimal cost.
However, interior wall demolition is not an easy task. The walls play an important role in the structure of the building. This is why it is important to avail expert service to avoid ripping walls that plays as important foundation of the building. With an interior wall demolition contractor, proper planning can be done to avoid ripping load-bearing walls.
Before beginning a home alteration project, you must do the necessary paper works. A building regulations application must be completed and you must be provided a certificate. Consulting an engineer is also necessary for some cases, to identify the best way to achieve your desired design without compromising safety.
Walls That Are Load-Bearing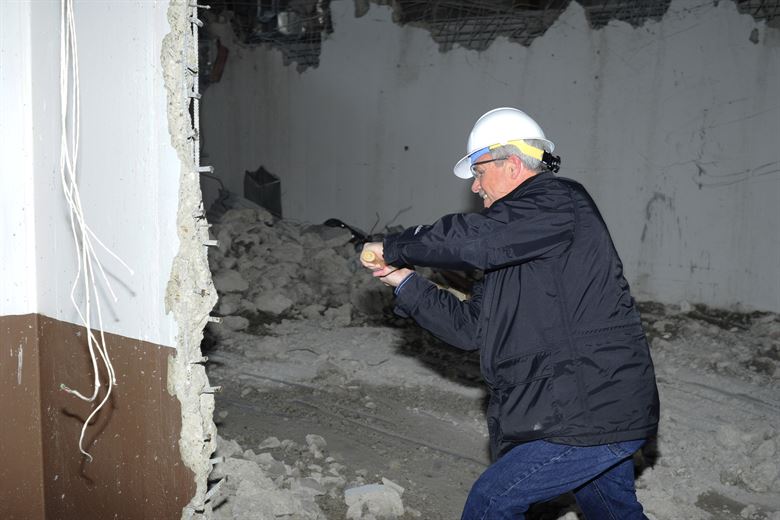 There are walls that serve as an important foundation in the house, while there are also walls that are only used as dividers. In performing wall demolition it is important to identify the type of wall before knocking it down. Interior wall demolition contractors are experts in this matter. They are able to identify load bearing walls and walls that are built simply for partition purposes.
A load-bearing wall should not be knockdown without proper support. This wall holds the weight of the house and that weight should be transferred properly before the wall is demolished. Cost of removing a load bearing wall depends on the size and extent of work to be done. Asking for a quotation will help you get a picture of how much the work will cost you.
We provide quality demolition service for years now and we assure you that when we conduct our wall demolition, proper assessment of the walls is conducted to avoid problems with the house' foundation.
Utility Lines Preparation
Prior to starting a demolition, the wall should be checked for HVAC ducts, electrical lines or plumbing lines. If there are lines on the wall you will have to consult a professional to fix it before starting the demolition
Finding the Best Interior Wall Demolition Service In Chicago
Interior wall demolition jobs can be as small as knocking down an unwanted door to demolishing an entire wall. There are many demolition companies that you can choose from. But make sure that you deal only with licensed and expert demolition contractors. Doing a little research and checking out the company's website will help you find the contractor that will suit your needs and your pocket.
We at Murray Demolition will ensure quality interior wall demolition service. For more inquiries contact us now at 312-410-8314.