Big Building Demolition Services
The larger the building, the more you have to worry about when it comes to demolition.
It's not just a case of getting a team in to get rid of a little concrete. You have to worry about the effects that such a large demolition job will have on the surrounding area. Moreover, you have to think about local regulations, the environment, and what you're going to do with all of the rubble that gets left behind.
It's a huge undertaking, which means you need a team that understands large building demolition.
Our big building demolition service may be for you. Our technicians bring years of experience working with constructions of all sizes to the table. We'll take the hard work out of your hands, ensuring the process goes as smoothly as possible.
Why Might You Demolish a Large Building?
There are many reasons why you may need to demolish a large building. Some of the most common include:
It's an old building that has undergone a lot of wear and tear over the years. In many cases, such constructions become structurally unsound to the point where repair work isn't an option. Demolition allows you to get rid of the building and start fresh construction work.
The building uses environmentally hazardous materials, such as asbestos and lead that have become exposed and present a danger to the residents.
You have planning permission to build a new building on the site that will serve the needs of potential residents and tenants better than the existing building.
The building presents a hazard in some other way. For example, the material used may make the building a fire hazard that affects the buildings surrounding it.
Whatever your reasons may be, we can help you to handle every stage of the demolition process.
Our Large Building Demolition Service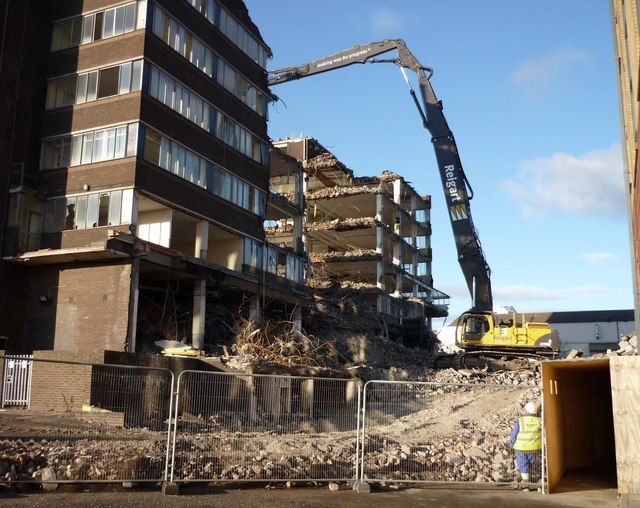 Demolishing a large building is no simple task and we recognize the many challenges that we need to overcome to do it safely and efficiently.
When you contact us, we'll send a technician to your site to inspect the construction. They'll walk through the building with you to get a sense for the size and scale of the demolition work. They'll also discuss some of the techniques that we can use. Typically, we use controlled implosions for big building demolition, but there are some other options for you to choose from.
After providing a quote and agreeing to go ahead, we'll send a team down to conduct a more thorough inspection. During this time, we'll work out where to plant explosives and help you to get the various permissions needed from local authorities to allow the demolition work to go ahead. With everything in place, we carry out the big building demolition for you.
Of course, large constructions leave a huge amount of waste. Our hauling service helps you to deal with that. Our expert waste removal team gets rid of the rubble and waste, safely disposing of it so that you don't have to worry.
If you have need of a big building demolition service, Murray Demolition is here to help you. Contact us today and we'll walk you through every stage of the process.