Pool Demolition Services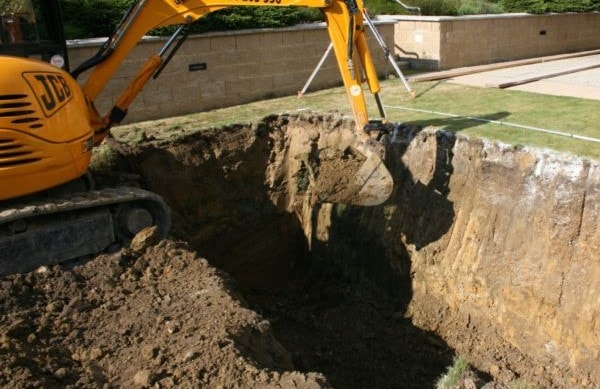 There are all sorts of reasons why you may want to remove a swimming pool.
You may no longer use it, which means you're spending time and money maintaining something that you don't want anymore. The pool may also take up space in the yard that you could use for something else. Or, the cost of insuring or repairing it may be higher than you want it to be.
Whatever the case may be, we can help you with swimming pool removal.
At Murray Demolition, we offer a pool demolition service that covers both above ground and inground pools.
Our Pool Demolition Process
So, what do you get when you rely on Murray Demolition to carry out your inground pool demolition?
We follow the following process on pool demolition/removal jobs.
Step 1 – We visit the site of the pool to examine it and figure out what sort of materials we're dealing with. These materials affect the methods that we use to demolish the pool. For example, we need to employ different techniques for a vinyl liner pool than we would for a gunite.
Step 2 – After carrying out our inspection, we'll discuss whether you want a complete or partial removal. A complete removal requires more work, but it leaves the land ready for you to build something new on. A partial demolition involves burying the debris from the process, which means you have more limits on how you can use the land. However, it's also the more cost-effective option.
Step 3 – We get to work on breaking up the pool. Firstly, we break down all of the concrete used to create walkways and the general pool surroundings. This is generally the quickest part of the job because it doesn't require us to mess with the foundations.
With the surroundings handled, we get to work on the pool's wall, floor, and foundations. This can often take more time, especially if it's a complex pool.
Which works are included?
This is where things can change based on your pool demolition requirements.
If you chose partial demolition, we bury the debris with dirt and re-lay the turf in your garden.

If you chose complete demolition, we haul all of the concrete and other materials away so we can get ready to prepare the land for future use.
Partial pool demolition: This is the less expensive of the two options. We complete the demolition work on the pool, but we leave the debris in the hole that the demolition creates. We then cover this debris with dirt and level the land out. You can still walk on the ground above the debris. However, there will be limits placed on what you can put on or build into the ground where the pool once was.
Complete pool demolition: With this service, we complete the demolition work and then haul all of the materials away. This creates an empty hole, which we then fill with dirt. Our team will also grade your land, which tells you exactly how you can use it. Typically, clients choose a complete swimming pool removal service when they want to build something new on the land. However, this more involved process does come at a higher cost.
If you need a complete pool demolition service, get in touch with the Murray Demolition team today. One of our customer advisors will happily help you to figure out which of our swimming pool removal services you need. 
Call Murray Demolition and get a pool demolition, inground & above ground pools demolition estimate today.