Ceramic Tile Demolition Costs
The Runaround Comes To An End When You Step Into Murray Demolition's Orbit
Have you been going round in circles trying to find a demolition contractor that can offer you a convenient and specialized ceramic tile demolition service? Murray Demolition is home to the broadest offering of demolition services. We have great news our ceramic tile demolition costs are modest from 3$-5$ per sq' foot.
Ceramic tile demolition should be handled by professionals even if you think it's a DIY job. It can quickly turn into an imbroglio. However, Murray Demolition takes away this debacle and quickly removes ceramic tiles. We have worked on credential and commercial projects. Therefore, we know what it takes to successfully complete a ceramic tile demolition project.
The Five Ways We'll Turn Your Project into a Success
We can offer you savings on ceramic tile demolition costs because we have five features that make us different from the rest of our competitors.
Number One
We have a process that assists us to deliver a proficient service. The process has been developed over the years. It's built upon the principles of safety, cost-effectiveness, environmental consciousness and quality.
Number Two
Our environmental policies help us to handle specialized materials with care. Every site is surveyed to check for hazardous materials. This policy means that our insurance premiums are considerable lower and you'll get this saving on your bill. If you approach an unaccredited demolition contractor the risk is you'll not be covered should an environmental accident occur and the resulting costs will be detrimental for your business.
Number Three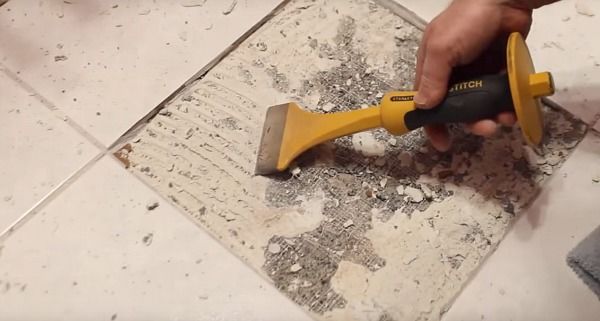 We work with local authorities. The authorities are not the enemy. We work with them to ensure the safety of workers and the community. We are working with people, therefore we put their safety first. This safety extends to the environment we'll not destroy the flora and fauna of an area so as to boost our profits.
Number Four
The equipment and machines in our fleet is built to handle different project scales. We'll use the best equipment for your project and the pricing will be fair. A terrific feature is that our equipment enables us to recycle and reuse and recycle materials that we would have disposed of in the past. This benefits you the client because you can resell or reuse the material.
Number Five
We pride ourselves on having the best demolition crew in Chicago. They have worked on numerous projects gaining skills and plaudits that make them your best problem solvers. Our team is trained to be flexible and fast when working on a project. Their speed doesn't mean that they'll compromise on quality, safety, environmental consciousness and efficiency. These are not mutually exclusive. They are binding factors that showcase our level of skill and commitment to customer satisfaction.
The Specialized Services You've Always Wanted
You've found what you have always wanted. All you have to do is to step into a relationship with Murray Demolition and everything concerning your demolition projects will become easier. It's not impossible as you think. Our offer prices from 3$-5$ per sq' are unbelievable for the premium work we offer in return.
We invite you to take a simple step by placing a call to 312-410-8314 and experience what we can do for you.