The Garage Demolition Cost Of Using Murray Demolition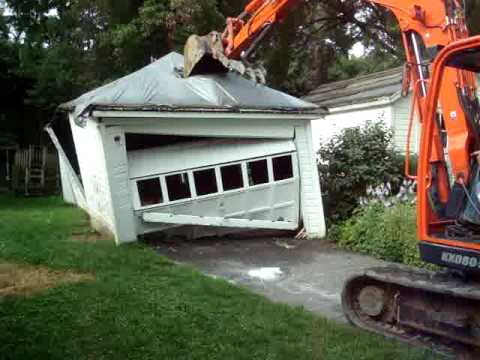 Most people have a use for their garage. They store their car in it or convert it into another room to add some more space to their property.
However, you don't fall into that camp. You don't have a use for your garage at all. Perhaps it's so old and dilapidated that it offers no protection to your car. Or maybe you just don't need a garage and want to get rid of it.
In either case, we can help you. Our garage demolition service will help you to reclaim your space so you can use it for something that you actually want.
Our Process
When you contact our team, we'll send a technician over to inspect your garage. They'll figure out any challenges related to the job, such as whether we need to disconnect any gas or electrical systems.
After the inspection, we'll talk to you about the garage demolition cost and arrange the work. The technician comes back to us and we start planning. Our focus at this stage is to ensure that the cost of demolishing a garage falls within your budget.
With an agreed plan in place, we schedule the demolition. Your team will arrive on time and handles everything related to the demolition.
We also provide aftercare to ensure you can use the land again. Part of your garage removal cost includes the removal of all of the debris left behind. We can even help you to grade the land so it's ready for later use.
Our Services
So, what kinds of services do we provide when it comes to demolishing a garage? They include the following:
Complete Demolition: We demolish the entire garage to the point where nobody would even know that it used to be there. This can be a very involved process, depending on the garage. For example, we have to consider electrical and gas related issues, as well as how to handle the demolition if the garage is attached to your property. Typically, this is the costlier of our garage removal services.
Partial Demolition: You may want to use part of the garage for another project. For example, you might want to keep the foundation and general structure, while getting rid of old materials and brickwork. We provide a partial demolition service that leaves as much, or as little, of the garage behind as you need.
Hauling: Demolishing any structure leads to lots of debris. We know you don't want all of those demolished materials cluttering your driveway, which is why we provide an expert hauling service. We ensure that there's nothing left behind, which leaves you free to use your land for something else. We'll also recycle or salvage any materials that can be used in another project.
As you can see, you get a lot of bang for your buck with our garage removal service.
Better yet, we offer a fair rate of between $2 and $6 per square foot. The exact rate depends on the size and complexity of the project.
If you need a company that offers a fair garage demolition cost and quality service, contact Murray Demolition.