Industrial Chimney Demolition
Safety Isn't Negotiable
You might be asking yourself how you'll handle the demands of your corporation's industrial chimney demolition and dismantling project. It's no longer possible nor safe to repair or retrofit it. The state of the chimney requires immediate demolition. It's a huge task and it needs sagacity, dependability and precision.
You have searched for the right experts to provide stress-free guidance and the delicate touch that's needed for an industrial chimney demolition job. What should you do because you know safety isn't negotiable? Well, we can tell you that you don't have to look far, we are the experts you need for this project.
Murray Demolition has decades of expertise handling the most complicated building demolition projects. There's nothings that's too complex. We have worked on multiple projects that have seen us handling industrial, commercial and residential demolition and dismantling projects.
What Makes Us The Right Fit?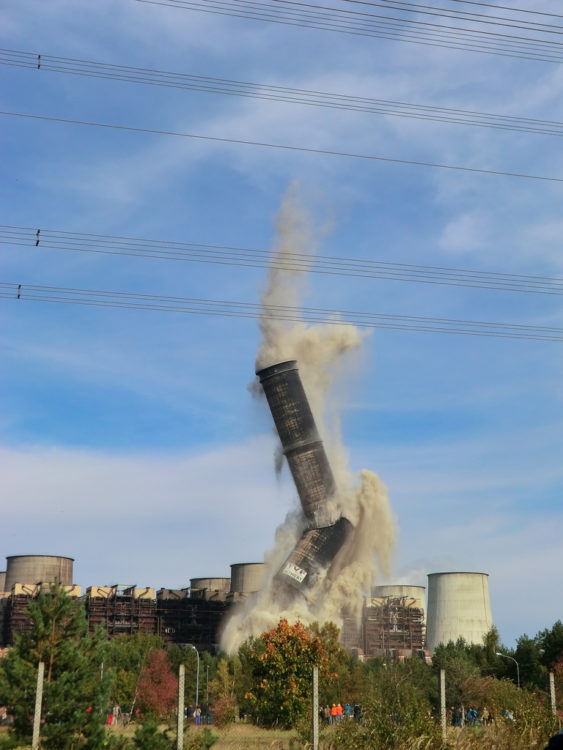 We have the experience of working across a wide range of projects. Our portfolio speaks for us. We aren't just rifling off marketing maxims to try convince you to part with your money. Our experience is real. As you have realized industrial chimney demolition isn't a project that you'll entrust to amateurs. You can rest easy that our experience will provides you with a safe and viable demolition process.
We have a process that answers your most important questions about safety. The safety of your equipment, your workers and the environment.  We have developed a process that makes industrial chimney demolition less strenuous.
Over the years our team has worked to put together a process that's built on pragmatism and intelligence. You can trust that our team of experts will handle your requirements by developing an intelligent and practical plan that will meet safety requirements and allow you to protect what you value.
We have the track record, we'll develop the right plan and we have the right people to work on the industrial chimney demolition project you want to undertake. Murray Demolition is your answer.
What you'll need to do without Delay
It's very easy. In order for you to gain access to our innovative methods and skilled professionals just visit or call us today. We have a dedicated team ready to talk to you immediately.
Murray Demolition technicians can be reached on 312-410-8314. Also have a look at our portfolio on www.murraydemolition.com. We look forward to talking with you.