Structural Demolition
The Murray Demolition Process is the Right Way
Structural demolition isn't a walk in the park. Luckily for you Murray Demolition is well placed to deliver a safe, environmental friendly and a budget wise project. We focus on a process that will assist you to salvage and recycle material for reuse.
We are ready to take down your building in a methodological fashion. We have worked on structural demolition projects for: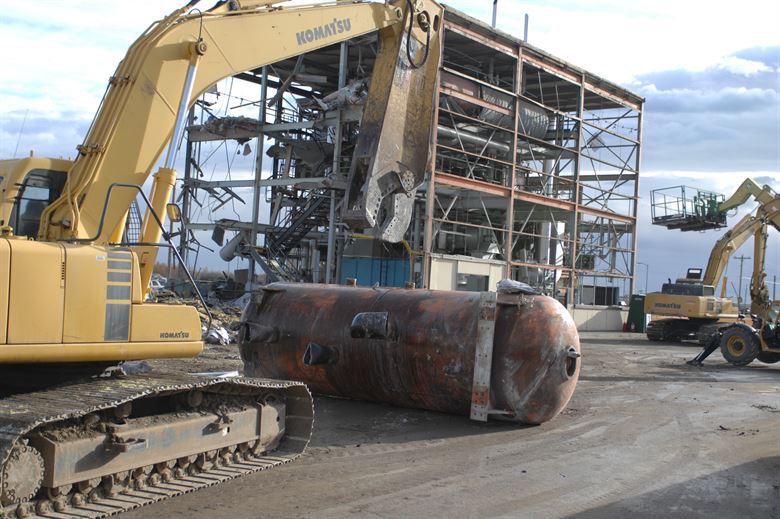 Industrial plants
Hotels
Chemical plants
Large commercial properties
Sporting facilities
Residential homes
This experience gives us a distinct advantage compared to most of the players in the industry. Our extensive portfolio guarantees that we know how to address challenges that arise on a structural demolition job.
Murray Demolition will assess your needs and put together a comprehensive structural steel demolition plan that will make certain that you recoup some of the project costs whilst giving the environment a helping hand by putting reclaimed materials to other uses or offering it for recycling purposes.
We Are Confident We Can Deliver On Any Structural Demolition Project Because:
We have a dedicated world-class team made up of knowledgeable professionals. This team has decades of combined work experience. It doesn't hurt that they have outstanding people skills that make them a pleasure to work with.
Our investment on mechanical gear like excavators, cranes and hydraulic equipment means that we are bringing the very best tools needed to tackle structural steel demolition. Our team undergoes continual learning so that they are conversant with the latest industry technologies.
The aforementioned empowers to implement a flawless structural demolition process. We develop unique plans for each operation. However, each plan depends on our clearly defined processes that enable us to promote safety and quality. Our processes is guided by OSHA guidelines that are set by the authorities.  If a company develops a plan outside of the recommended guidelines you are better off cutting the relationship before it becomes costly.
Your Next Move Should be to get on the line and talk to our professionals to get more information and set-up an appointment. We know that you'll get what you are looking for from Murray Demolition's experts.
Call us now or 312-410-8314. Or click on the link www.murraydemolition.com to get an exclusive look at our portfolio.