Excavation Demolition Contractors
Sometimes You Need To Dreg It Up
Murray Demolition are the number one excavation demolition contractors. We provide excavation services for big and small construction projects in Chicago and beyond. If you have been struggling to get dependable excavation demolition contractors we are putting an end to that search by offering you a pledge that when you deal with us you'll experience quality services provided by committed individuals who value customer satisfaction.
We have a talented and professional crew that will plan, execute and complete your excavation project using cutting-edge tools. Excavation doesn't have to be rocket science and yet some contractors will make you jump through hoops to get a shoddy service.
Why Murray Demolition?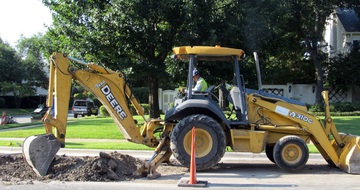 Our assertion that we are number one is backed by the following guarantees:
The Number one pledge is that we have been in the business for many years. You can't take away the need for experienced excavation demolition contractors because the knowledge that your project is being handled by contractors who have done it over and over again will make you rest easy.
The number two pledge is that we have the requisite tools to carry out the excavation process safely and quickly. In our fleet we have wheeled and tracked excavators, back hoe excavators, bulldozers, dragline excavators, trenchers, chain trenchers and wheeled trenchers. We are ready to deliver the best excavation and demolition services for your project.
Murray Demolition's number three pledge is that we have the team to use this equipment expertly. They have intimate knowledge of the machines' operations. They will get the machines to do a great job.
Our number four pledge is that we have a safe and efficient process that protects your property, people and the environment. We will not engage in an excavation project without doing a thorough survey to satisfy that we won't cause damage to the environment and other structures within the vicinity. The survey will allows to mark boundaries and the depth of the excavation.
What Are You Getting Yourself Into?
When you choose Murray Demolition as your demolition and excavation contractors you know for a fact that you are working with people who value safety, quality and cost-effectiveness. For the best results start a conversation with us.
Begin your relationship with the number one excavation and demolition contractors by calling us on 312-410-8314. We have personable people who can't wait to talk to you.