Different Types Of Paving Slabs
Most people take paved roads and driveways for granted. We never consider what paving material to use. Should it be asphalt or concrete? Asphalt paving when done well, is better for durability, and driveability. It even looks good, is affordable and suits the environment. An asphalt driveway, for example, when installed by an experienced asphalt and pavement contractor can last up to 20 years. It can be laid faster than concrete paving saving both time and money.
The benefits to installing the right style of paving construction are many. While asphalt and concrete possess the same load bearing capacity, there are pros and cons to both kinds of paving. Experienced paving companies can guide you in selecting the right paving project of your choice.
What are the different types of pavement paving?
You will find two major kinds of pavements. Fixed and flexible. The main difference between the two is how their load bearing capacity is distributed to the subgrade surface beneath the pavement.
Flexible pavements
Flexible pavements include either asphalt or a mixture of asphalt and bitumen. They can be used in several ways such as, street pavements, or a residential paving project. The thickness of an asphalt pavement depends on the strength and load bearing capacity of the underlying subgrade soil. Flexible pavements include:
Residential asphalt paving
Driveway paving
Street pavements
Roads and parking lots
Streets and walkways
Rigid Pavements
A rigid pavement is a concrete construction using reinforced concrete slabs. This category comprises semi concrete paving. Rigid concrete paving is made of concrete slabs strong enough to take the load of heavy traffic. In contrast to asphalt paving, the strength of the concrete slab is important and not the subgrade soil. The concrete slabs make up for any insufficient support from the subgrade. Examples of concrete paving include:
Interstate roads
Airstrips
Bridges
Military bases
Parking lots
City streets
Besides the two major styles of paving construction, there are other kinds of paving such as gravel and stones. These can be used for any paving project from driveways, to pavements and concrete garden paving.
Pavers
These are flat stones assembled together to cover a path or walkway. They are better suited for a patio, narrow pavements, gardens, swimming pools, and driveways. The advantage of concrete pavers are the color and design options which you can get from concrete paving companies. Concrete and stone pavers come in colorful designs and look good but their color can fade. They can be vulnerable to erosion. Pavers can include.
Concrete pavers
Brick pavers
Stone pavers
Cobble Stone pavers
What are the factors to consider in a paving project?
An asphalt paving contractor should be experienced enough to decide which pavement suits a paving project. The paving used will impact the aesthetic value of a driveway or a walkway. It will affect matters of function and durability.  Hire a professional paver who can give you the best concrete and asphalt services like Murray Demolition in Chicago who can recommend what is suitable depending on these factors:
Cost of the paving project
The soil types such as the subgrade
Design and looks
Environmental conditions such as climate
usage
What you should know about asphalt and concrete paving?
Asphalt is flexible and 100% recyclable. In fact, asphalt is the first choice for residential paving projects in America.  While most road and pavement works may choose between asphalt and concrete, Asphalt is durable and lasts longer. With regular maintenance by an asphalt contractor, its lifespan can increase even longer. In contrast, concrete is expensive and most people choose asphalt for driveway paving or residential asphalt paving.
The features of asphalt paving
It absorbs noise
Fast installation
Asphalt is cost effective
Good for water drainage
Safe for most paving options
The different kinds of asphalt paving
Porous Asphalt: An ECO-friendly solution for paving work. It manages storm-water efficiently.
Cold Mix Asphalt: remains soft in low temperatures and repels water. Used for repairing potholes. It can be mixed at any temperature.
Hot Mix Asphalt: The most common asphalt solution that is mixed at high temperatures. This is used in high traffic highways, streets, and roads
Warm Mix Asphalt: This is another ECO-friendly product which does not use much fossil fuel. It is cheaper than the hot mix option.
Coarse Graded Asphalt: This is used a binding agent for supporting thick mixes. This is usually used in surfacing of roads, driveways and parking lots.
The features of concrete paving
Concrete pavements fall in the rigid paving category and is used in heavy traffic applications. Concrete paving need a skilled concrete construction and paving contractor because it needs to be made strong and durable. This is because concrete has to be made cost effective since it is prone to environmental erosion. But conversely, concrete has its advantages too.
Concrete is suitable for a heavier load
Withstands fuel spillage
Can be used in weak subgrade
High temperature resistant
Concrete paving includes three styles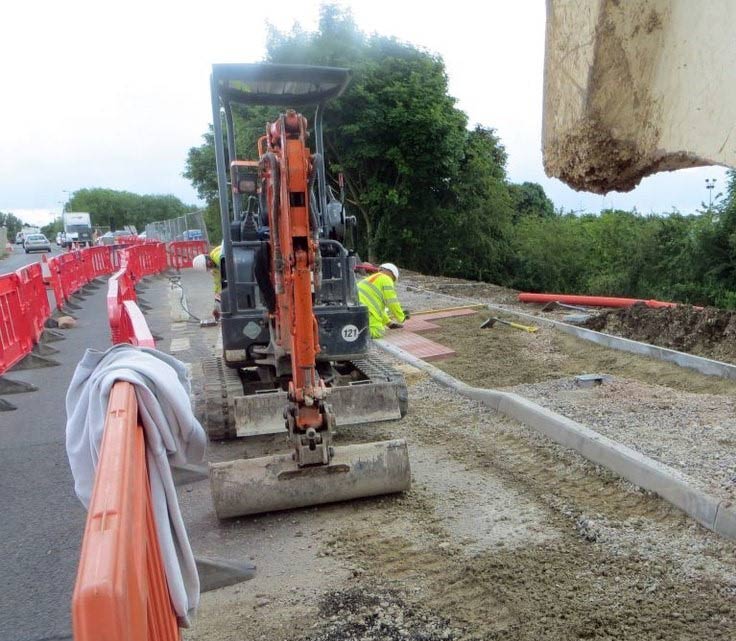 Jointed unreinforced concrete pavement: Batch of square concrete slab units connected to each other by tie bars and joints to avoid cracking. This is used in airfield taxis and industrial yards.
Jointed reinforced concrete pavement: A modification of the above chosen when there are issues of workmanship and paving products. The pavement in this case is thinner with a larger joint spacing. Used in highways that bear huge traffic loads.
Continuously reinforced concrete pavement: Constructed by placing long reinforced bars in the middle of concrete slabs. The bars are used for maintaining cracks caused by shrinkage. These are used in airfields and highways.
How to hire a professional paver?
To make sure your pavement withstands the test of time, qualified asphalt and pavement contractor is important. Be it a concrete paving company or an asphalt paving company, you need one who is experienced in knowing the elements of construction paving. A good paving contractor will have the right equipment even for finishing work. They should look for defects and have all cracks sealed after which line striping needs to be done to make you paving project look good. How do you find one who can give you the best asphalt services? Here's how:
Ask people for references of good service providers
Ask neighbors who may have just finished a paving project
Research both asphalt and concrete paving companies
Verify the credentials such as licenses, reviews. Check complaints
A pavement company with a good local reputation is a wise choice
Always choose a local permanent contractor rather than those who move
Avoid contractors who find you out of nowhere
Avoid those who will offer you a deal from leftover paving
Trust only an experienced company
The company should have necessary equipment and manpower
Do you need a new paving construction for your driveway or walkway? Are you looking for reliable asphalt services? Do you want to install a pavement with good storm-water management? If so, then Murray Demolition can help you with professional paving services in Chicago. We offer new paving installations, cost effective repairs, pavement demolition and removal to resurfacing. Call us to request a free estimate for all your asphalt and concrete paving needs.