Professional Demolition Services in Hoffman Estates!
Do you live in Hoffman Estates and you need a licensed, professional local contractor? Your search ends here as Murray Demolition will offer you top-notch demolition services. Our team is ready to make room for your future plans. We take our work seriously and we never compromise on quality. Our experts value honesty and integrity and we are targeting zero errors.
Murray Demolition team has the necessary skills and experience to deliver fast results. We understand our customers' demands and we are enthusiastic as to hop into a new project. Therefore, we gathered an ambitious team of professionals who always strive for excellence.
We have the experience to find the best solutions for your project, even if we are talking about difficult access, without disturbing your neighbors and protecting the environment. What is more, once the demolition is done, we will not consider our work done until we clean up the space.
One-stop-shop for Hoffman Estates Demolition Services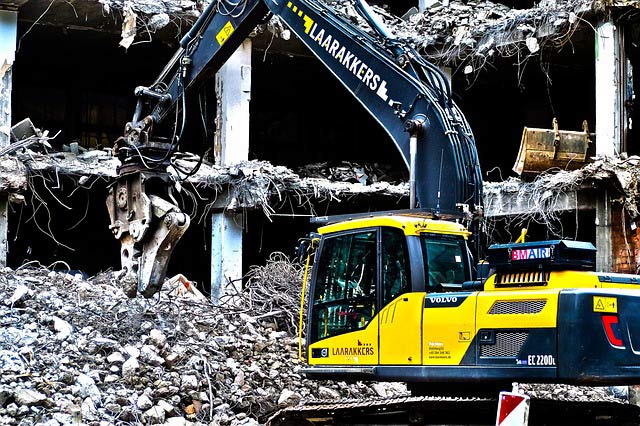 Even though a building demolition might seem an easy work, the reality is actually different. We managed to build our reputation thanks to our extensive investments in professional equipment and skilled people. We focus on creating long-term relationships with our clients and we do our best to successfully finalize our projects.
Murray Demolition offers tailor-made services for our clients. We are able to handle the entire demolition process from beginning to end and we support our clients in completing important milestones like:
Obtaining the essential permits required by authorities;
Present the permits to the authorities on behalf of our clients and offer consultancy on preparing the correct checklist of permits;
Disconnecting utilities and making sure we protect the environment, our employees and the neighbor's while executing the works.
The experienced crew at Murray Demolition is able to adapt our demolition methods depending on the project's difficulty. We invest in our team's professional development and we keep them updated with the latest demolition methods available on the market.
We are licensed and insured to provide professional services. What is more, we commit to personalize our services to the clients' needs and offer versatility. You can call us for the following demolition services:
Concrete small building demolition
Foundations and footings demolition
Selective demolitions
Complete small building demolition
Our list of services is not limited to the ones listed above. Give us a call, tell us about your project and needs, and we will personalize our services for you.
When you need professional demolition services in Hoffman Estate, you can call Murray Demolition, tell us what you need from our side, and we will do the rest. Our years of experience and state-of-art equipment help us deliver fast, professional, and flawless services. We start with the project's evaluation, continue with the works' execution and end with the cleanup. Count on us as your number one choice for your demolition needs.